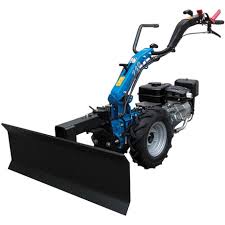 The DOZER BLADE is built for moving and "dozing" gravel, sand, dirt, and other small debris, as well as leveling ground.
It is fixed to the mount to prevent "floating" like the BCS Snow Blade for maximum leveling performance.
The blade can be adjusted to five different positions to steer debris in a desired direction.
Wheel weights are recommended when in push mode for maximum performance.
Pushes and pulls debris.
36" wide x 12" tall.
5 angle positions.
3/8" thick steel blade.
NOW AVAILABLE – DOZER BLADE BOX END SCRAPER KIT
The Dozer Blade Scraper Kit can be installed onto both ends of the Dozer Blade attachment to create a "Box Scraper" effect.  This assists in grading and scraping loose material.
Made of 5/16" laser-cut steel, the pair of Scraper blades are formed rather than welded and have a powder-coated paint finish.
The kit includes all necessary hardware for installation.