If you want to live in a cleaner environment then you need to participate in keeping it clean.
B Y O B – Bring Your Own Bag – and practice reduction now!
These super-sized totes can hold all your market goods while doing day to day errands or packing for a weekend getaway.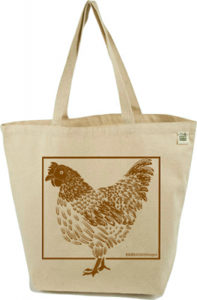 CHICKEN TOTE – 19″ W  15.5″ H, 7.55″ Gusset
Printed on 100% 10 oz. Recycled Canvas
Double stitched seams and stress-points
Machine wash cold – Hang dry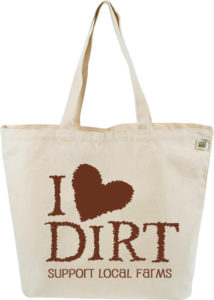 I LOVE DIRT TOTE – 19″ W  15.5″ H,  5″ Gusset
Printed on Natural Cotton Canvas
Double stitched seams and stress-points
Machine wash cold – Hang dry
REDUCE  –  REUSE  –  RECYCLE