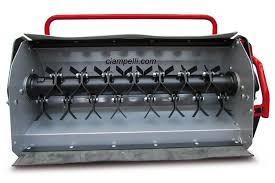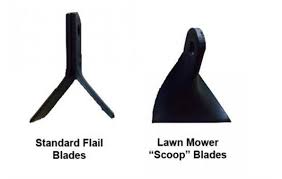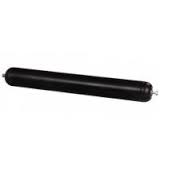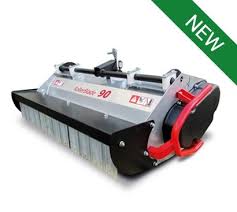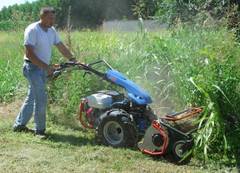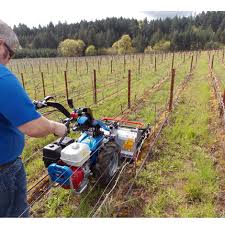 The FLAIL MOWER is the heaviest-duty mowing attachment in the BCS fleet.  Capable of mowing in the toughest conditions, it has vertically rotating 'Y' blades that pulverize plant material into a fine pulp that is evenly spread across the mowing width.
The Blade Runner's front bulkhead is designed for lifting itself depending on the flow of material to be worked, which can be thick brush, vines and saplings.  Like the Brush Mower, it can mow anything it can bend, including saplings.  A convenient control handle sets the cutting height from ½" to 4", and retractable caster wheels allow for easier handling and transport.  The mower rides on special side-mounted skids made of boron steel.
**Accessory Note: Model 722 requires 5″ x 10″ wheels to operate the 24" Blade Runner.  The 722 is not a recommended tractor to operate this attachment due to its straight axle.
24", 30", or 35" working widths. NOTE: The overall widths of each mower should be increased a total of 7" to account for the caster wheels and belt cover.
Dozens of vertically swinging 'Y' blades.
Convenient control handle to set cutting height from 1/2″ to 4″.
Automatic opening and closing front deflector.
Adjustable and retractable caster wheels.
Wear-resistant steel side skids.
Oil bath input gearbox with grease fittings on ball bearings.

Optional: ANTI-SCALP ROLLERS and LAWN MOWER "SCOOP" BLADES available under Accessories
Anti-Scalp Roller:  These full-width rollers replace the skids and enable the flails to be set at a cutting height of 1/2″ without scalping, i.e. contacting the ground, even when mowing on soft soils.  Also, because the roller is located closer to the tractor than the skids or caster wheels, it becomes easier to traverse rough terrain (example, mowing through V-ditches).
Lawn Mowing "Scoop" Blades:  If your mowing needs change from "off-the-lawn" to lawn, these alternative blades will deliver manicured lawn results.  Again, mowing height is infinitely adjustable from 1/2″ to 4″.  Be advised, however, that the changeover time to switch from the standard Y-blades to the "scoop" blades is considerable (approximately 1 hour).
N E W !   Rollerblade Flail Mower
BCS's newest mower, the ROLLERBLADE FLAIL MOWER,is ideal for shredding cover crops for quick decomposition.  The roller prevents "scalping" when adjusted to its lowest height setting, even on soft soil or raised garden beds and it is easier to traverse rough terrain (such as V-ditches) because the roller is located closer to the tractor wheels than skids or caster wheels,  reducing the overall length of the machine.
Recommended for market gardeners. It has several differences from the standard flail mower including:
 Lower dome produces smaller particle size in a single pass.
Full-length roller that is adjusted via easy-to-use crank handle.
Cutting height range from 0.5 to 2 inches.
Wider and thicker blades than standard Flail Mower.
Available in a 30" cutting width only.
The ROLLERBLADE can mow anything it can bend, but because of its lower dome and 2.5" maximum mowing height, we still recommend the standard FLAIL MOWER for "all-purpose" applications.  This includes mowing tall, dense material.