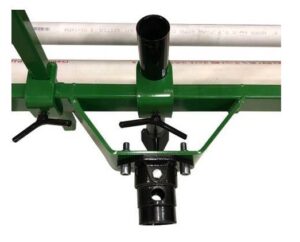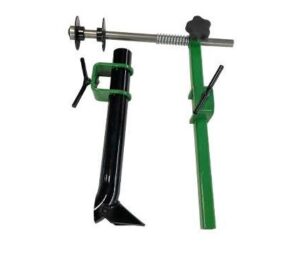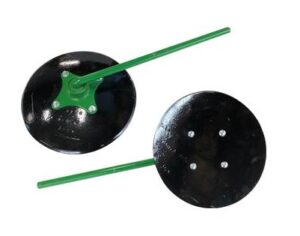 The Plastic Mulch Layer is yet another useful and simple attachment for small-scale farmers or professional growers.  The unit handles 3-foot or 4-foot wide plastic mulch and is perfect for laying plastic mulch over 30" raised garden beds, provided that the beds are consistent in shape and size, and are not over 3" tall.
Compatible with models 749 and up, the Plastic Mulch Layer lays plastic mulch and simultaneously buries the edges of the plastic on both sides to keep it anchored to the soil.  I
Like any plastic mulch layer, this attachment performs differently in differing soil types, and needs to be adjusted accordingly.  The "openers" (opens the furrows), "press wheels" (presses the plastic down into the furrows), and "closers" (close up the furrows to bury the plastic) are all easily adjustable.  These 3 items must be adjusted in line with each other for proper performance.  See accompanying photos for a visual aide.
A prerequisite is that the soil needs to be well-worked, dry, and level.  Even with perfect soil conditions, the Plastic Mulch Layer typically requires some experimental adjustments to obtain optimal results.  The adjustments must be equal on both sides of the unit.  We recommend measuring the shanks on the openers, closers, and press wheels to confirm the settings are all equal.
Designed for use with a 2400′ roll of plastic for best handling.  It includes a set of "openers" , which are used for flat-beds, and a set of disc-openers for use on raised beds.  It also has a "floating" mounting hitch at the PTO connection point, allowing the unit to be steered slightly for course corrections.  A Quick Hitch bushing must be installed on the tractor, since the unit's mounting hitch has an integrated Quick Hitch tang.
Installing plastic mulch almost certainly requires the use of drip tape to provide water to the plants.  The Drip Tape Layer Kit is available to simultaneously lay one row of drip tape under the plastic as it is being installed.  If multiple lines of drip tape are required, the tape should be laid manually before the mulch is installed.  A 1000′ Drip Tape Roll is also available, which features 4" emitter spacing.
To avoid installing the plastic mulch over wheel tracks, the tractor's wheels need to straddle the bed.  To straddle 30" wide raised beds, the tractor needs to have a set of 16" Wheel Extensions installed.  A 5″ x 12″ minimum tire size is recommended for adequate ground clearance.  For models 732, an additional axle spacer is required due to its axle design.
A removable toolbox/storage bin is available and sold separately. The toolbox features two 18″ x 3″ compartments and straddles the frame of the implement.
Using 4-foot rolls: Lays plastic mulch over 28-30″ raised beds, or flat-lays mulch over a 36-40″ wide flat bed.
Using 3-foot rolls: Flat-lays mulch over a 26″ wide flat bed.
Extra set of disc "openers" included for use on raised beds.
Raised beds can not exceed 3" in height.
Quick Hitch Tang included (requires Quick Hitch Bushing on tractor).
Oval Quick Hitch pin hole allows the unit to "float".
Side-to-side play at hitch point for steering ability if unit gets off course.
Six height settings at Quick Hitch connection point.
Made in the USA.
SOLD SEPARATELY:
2400′ Roll Plastic Mulch
Drip Tape Layer Kit
Drip Tape Roll (100 ft.)
Removable tool box
REQUIRED ACCESSORIES:
Quick Hitch Bushing installed on tractor
Minimum 5″ x 12″ wheels for clearance
16″ Wheel Extensions
Wheel Weights to provide additional traction.
Model 732 only – Axle Spacer