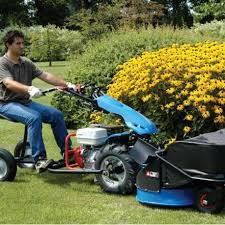 VIA A PAIR OF LYNCH PINS, THE MOWING SULKY FRAME CONNECTS TO RODS/FLANGES
THAT ARE MOUNTED TO THE TRACTOR WHEELS.  IF ENCOUNTERING STEEP SLOPES OR TIGHT AREAS,
IT IS EASILY REMOVED AND RE-ATTACHED IN THE FIELD WITH NO TOOLS REQUIRED!
Designed so owners can ride while they mow!  Recommended for the larger BCS tractor models featuring a third working speed and individual wheel brakes (749PS, 750PS, 853)
The MOWING SULKY operates front-mount attachments only, but is not limited to any particular mowing attachment.  The Power Sweeper can also be operated when the Mowing Sulky is attached.
It is the only way to ride any BCS tractor while operating a front-mount attachment, where the Utility Trailer can not operate implements while connected.
Like the Utility Trailer, the MOWING SULKY inhibits the turn radius of the tractor.  Sharp turns are not recommended due to a potential jack-knife effect.