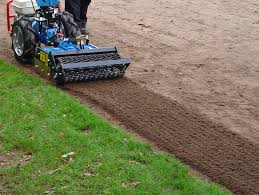 The POWER HARROW maintains the natural layers of the soil with its horizontal knives, preventing dormant seeds from coming to the surface to germinate.The tine depth can be adjusted from 0″ to 5″ with a simple adjustment lever. It also levels uneven ground, perfect for the landscape industry. And, the POWER HARROW is the preferred seedbed prep tool by many market gardeners.
NEW! BCS now offers a 30" Power Harrow. Weighing 171 pounds,
it's lighter and more maneuverable than previous versions.
Best of all, it's perfectly fitted for 30"-wide beds with a 28″ working width.
Newer features such as spring-loaded metal sides for better soil control and
a shortened PTO connection point for a closer center of gravity to the tractor,
the 30" BCS Power Harrow is the best unit yet for Market Gardeners.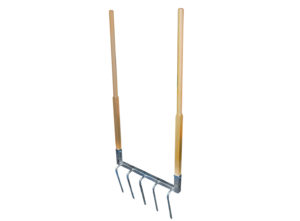 BONUS! Receive a free BROADFORK with the purchase of ANY Power Harrow!  A $180 Value!!
The Broadfork is one of the handiest tools for the Market Farm! With a working width of 24". It loosens soil up to 12" deep without inverting or mixing soil layers. It's both effective and the most economical way to achieve deep aeration while maintaining soil structure.Its simple and ergonomic design is comfortable to use, weighing only 12 pounds. The solid ash handles are fixed to the high carbon steel zinc plated tines via four bolts and nuts (two on each handle).
POWER HARROWS AVAILABLE IN 21″ & 30″ & 32″ WIDTHS