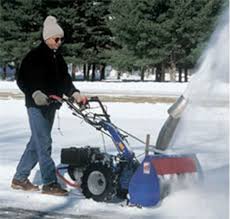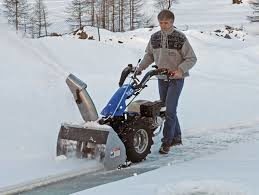 The BCS Snow Thrower attachment throws dry, wet, and icy snow from the stainless steel discharge chute up to 40 feet with ease – without snow accumulating in the chute or rusting.
High torque and high velocity combined with all-gear drive means high performance.
It surpasses any other walk-behind snow thrower on the market—including two-stage throwers, despite its single-stage auger.
Chute can pivot right-to-left with a handle from the operator's position, allowing owners to easily and accurately steer the direction of the thrown snow.
Easy-to-adjust skids on either side provide height settings from 0″ to almost 2″
Heat-treated steel gears in oil bath gearbox supported by ball bearings
Optional Weight Kit available to help maintain contact with ground when on slopes
AVAILABLE IN 24″ AND 28″ WIDTHS
Required Accessory: PTO extension or Quick Hitch .      Model 750PS requires a 750 Bushing
---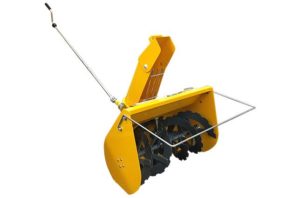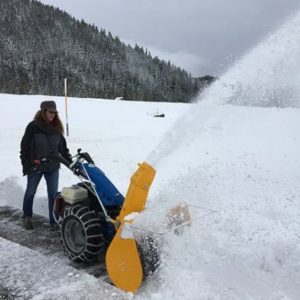 The BCS Two-Stage Snow Thrower is specifically designed to tackle monster snowfalls, blowing away with ease drifted snow that is feet deep. Rated discharge distances are up to 45 feet!
These units feature a 3/8" steel plate blower housing and cast-iron gearbox – both designed for hard use and long life. It also comes with adjustable rollers to use as an alternative to skids, which improves maneuverability. Shear bolts are positioned to protect both the primary augers, as well as the secondary impeller.   The discharge chute can be rotated horizontally up to 200 degrees. Also, the directional control rod extends and is fastened to the tractor's right handlebar for operator comfort.
23" intake height
15" diameter auger
Adjustable skids provide height settings ranging from 0" – 2"
28" version fits models 739 and up
33" version fits models 749 and up
Required Accessory:   Model 750PS requires a 750 Bushing