Rada's all-time best-selling knife!
The Regular Paring Knife is often the most used knife in the home because it is the ideal size for a wide array of cutting tasks -slicing and paring fruits and vegetables with ease.
The secret is in the Regular Paring's surgical-quality, high-carbon stainless steel blade, which is hand-sharpened to a razor-sharp edge. The hollow-ground blades ensure a precision concave surface for easy sharpening, while a finger guard helps ensure safety when cutting.
3-1/4″ Blade      6-3/4″ Overall
Made of surgical quality T420 carbon stainless steel
Solid satin-finished aluminum handles OR Black Resin handles
Balanced for comfort
Lifetime Guarantee
100% made in the USA
RADA – "Feels good in your hand"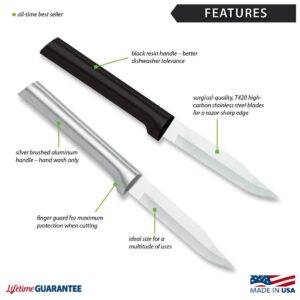 *Hand washing all fine cutlery is recommended – This prevents microscopic dings on the blades' cutting edge, eliminates the harsh environment created by a dishwasher's high temperatures and abrasive detergents and helps protect your cutlery from corrosion, ultimately extending the life of their finish.