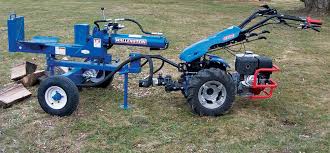 Drive your splitter to the wood pile with this highly efficient attachment made by Wallenstein, the premier Canadian manufacturer of log splitters.
Equipped with a 4″ diameter cylinder and 16 GPM, two-stage hydraulic pump, the splitter is conservatively rated as developing twenty tons of splitting pressure that powers through the toughest wood with ease.
It takes approximately 7 seconds to split a log that is 24″ long, and another 7 seconds for the hands-free reverse to return the wedge to its starting position.
Equipped with large diameter tires and a wide stance. The quality of all the components, along with its performance, make it appropriate for commercial operations.
Can be operated horizontally or vertically
24″ log capacity – 20-ton force
Large diameter tires make it stable and easy to steer
Optional 4-way splitting wedge is available
Required Accessories: Power Cradle and Curved Coupler
Optional Accessory :   4-way Wedge