We offer three styles of handcrafted wooden Soap Dishes –  each beautiful and uniquely one-of-a-kind.
RECLAIMED WOOD – This soap dish is slim and sleek, with a simplistic design.  
BONUS!! Buy 4 Goat's Milk Soap Bars and get a RECLAIMED WOOD SOAP DISH FREE!!
Made up of a wide variety of wood types.

Natural, unfinished wood. (May be coated with a clear semi-gloss to really bring out the wood's natural colors)

Top planks are approx. 3/32″ thick.   Overall size approx: 3″ x 4-1/8″ x 3/8″

100% Handcrafted in the USA
CEDAR BOARDWALK– This soap dish has minimal surface area to minimize the sticking of the soap and wide angled channels which allows the water to quickly drain away. This not only allows your soap to dry quicker and extending life to the soap, but it also extends the life of the soap dish.
Made of Aromatic Spanish cedar

Hand sanded on all edges, creating a soft elegant look

Measures: 2-3/4″ x 4″ x 3/4 "

100% Handcrafted in the USA
LUXURIOUS OAK WOOD – While a deep dark chocolaty brown hardwood, this is actually made of natural red oak lumber which has been thermal treated to transform it into a highly water resistant wood, as well as transform the color. The process of thermal treating lumber places the lumber into a pressurized chamber where it is brought up to over 500 degrees Fahrenheit. The high temperature in the pressurized chamber prevents the lumber from catching fire, but causes the natural sugars in the lumber to caramelize, turning a dark brown color and transforming the lumber into a significantly water resistant material. The result is this beautiful hardwood with the distinct grain patterns found in oak wood.
                                                                                                       

Finished with clear semi-gloss lacquer

Measures 3″ x 4″

100% Handcrafted in the USA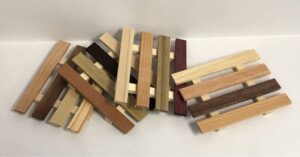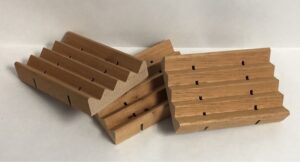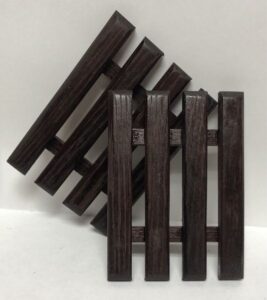 **** A soap dish significantly extends the life of a bar of soap – but did you know that you can also extend the life of your soap dish?
Use your soap dishes in pairs to extend the life of the dish – use one dish for 2-3 weeks, and then switch it out with the second
dish while allowing the first dish to completely dry out while you are using the second dish for 2-3 weeks. Doing this will prevent
mold and mildew from developing and growing on your dish and greatly extend the life of the dish.