GOAT'S MILK SOAPS from The Freckled Farm Soap Company
Hand-crafted from spoiled, happy goats!
Only the finest natural ingredients – raw goat milk straight from their farm, highest quality natural oils, and aromatherapy grade essential oils.
Virginia based and family run.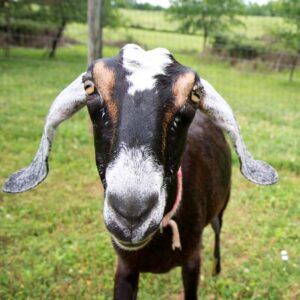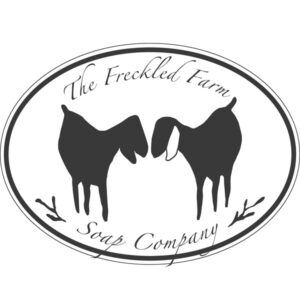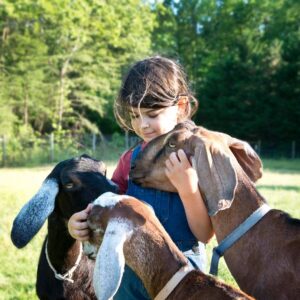 AVAILABLE SCENTS:   **Bonus
LAVENDER

– As close to the smell of the real flower as you can get! A soft, calming scent that is sure to relax and soothe.

OATMEAL HONEY

  – A warm, soft, subtle scent.
PEPPERMINT EUCALYPTUS – The cool, crisp scent of peppermint and eucalyptus essential oils without being overpowering.

COFFEE

– Highly exfoliating and has a light sweet scent (more of a sweet cream scent than a coffee scent). Perfect for anyone who works with their hands!

SUNRISE CITRUS 

– A refreshing scent of Lemon, Orange, Grapefruit, and Rosemary.
CLEOPATRA  – Earthy, spicy scents of Frankincense and Myrrh.
CASTILE   – Free of both dyes and fragrances, and only includes four simple ingredients producing a thick lotion-like lather. Makes a great shave soap too! The mildest soap in the line, mild enough for those with sensitive skin or with skin issues. It is also gentle enough to use on young children (not tear-free).
CANINE SHAMPOO  –  The star ingredients of this soap are tea tree, lavender, rosemary, and ground oatmeal. It has a wonderful full lather that is sure to get your dog's coat extra clean!

LEMONGRASS GREEN TEA

– This lovely light green soap features lemongrass essential oil, a natural mosquito repellent, making it a popular summer bar for everyone. The sunny citrus and fresh grass notes in your suds create a refreshing bathing experience, no matter what time of year.
DEEP SEA – An amazing deep scent of eucalyptus, juniper berry, and rosemary will make you feel like you are having a spa day. The kelp powder, spirulina, and orange peel powder give the lather a wonderful silty feel. This soap will leave you feeling refreshed and new!
DEEP SPACE  – Includes activated charcoal, lavender, and tea tree making it the perfect face soap! The lather is smooth and silky and it smells absolutely amazing!

ROSEWOOD SALT

–  A light lather with a sweet floral and woody scent made with rosewood essential oil and Himalayan Pink Salt. Perfect for the rougher areas of your body like your feet.