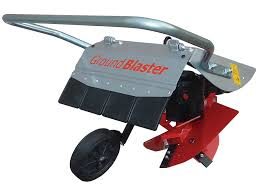 The ROTARY PLOW is best at breaking new ground. A single pass creates a seed bed of loose soil 10″ – 12″ deep.
Discharges to the right. Effortlessly creates a series of raised beds by making multiple passes.
Perfect for power composting cover crops too.
**Wheel weights are needed for Models 732 and up – and Model 750PS requires a 750 bushing.