The Granny Parer is the smallest knife Rada makes.
With its compact size, this small paring knife is great for peeling particularly when you need a knife that allows for a degree of finesse when cutting small, spherical foods.
The key to this small knife's unparalleled level of precision is in the 2⅜-inch blade, which features a reverse-curved shape that makes cutting and slicing, whether in a motion towards or away from you, a snap, while a finger guard ensures your safety while cutting.
The blade itself is hand-sharpened for a razor edge, and is produced with surgical-quality, high-carbon, stainless steel, meaning that this knife is built to last. Hollow ground blades ensure a precision concave surface for maximum edge retention.
2-3/8″ Blade      5-7/8″ Overall
Made of surgical quality T420 carbon stainless steel
Solid satin-finished aluminum handles OR Black Resin Handles
Balanced for comfort
Lifetime Guarantee
100% made in the USA
RADA – "Feels good in your hand"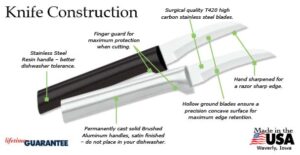 *Hand washing all fine cutlery is recommended – This prevents microscopic dings on the blades' cutting edge, eliminates the harsh environment created by a dishwasher's high temperatures and abrasive detergents and helps protect your cutlery from corrosion, ultimately extending the life of their finish.