The CROWN is the largest purifier model. It holds six gallons of purified water, and can accommodate 2 – 8 Black Berkey Filters and Fluoride Filters. As with other systems, adding additional Black Filters, will speed up the filter time, getting you purified water faster!  Comes with a pair of Black Berkey Filters – Read about them below – and a plastic spigot.
With 2 Black Filters this system is best for daily use for large families of 6+ people.  *Not yet available in Iowa or California*
| | | |
| --- | --- | --- |
| | 2 filters |  6.5   GPH |
| Purification Speed | 4 filters | 13     GPH |
| (Gallons per Hour) | 6 filters | 16.5  GPH |
| | 8 filters | 26     GPH |
Material: 304 Stainless Steel
Finish: High Polish Stainless Steel
Height: 31 inches
Diameter: 11 inches
About Black Berkey Filters-
Berkey systems utilize advanced and powerful filters that we call our Black Berkey Filter Elements (also sometimes referred to as BF2s). The Black Berkey Filters used in all of our systems take water filtration to a whole new level! During testing conducted by independent, EPA-approved laboratories, the Black Berkey Filters removed a long list of water contaminants with never-before-seen results and significantly raised the standard for the water filter industry. As a result, Black Berkey Filters are some of the most efficient filters available on the market. A pair of Black Berkey Filters comes standard in all of Berkey Water Filter Systems.
When drinking water that's been filtered using a Black Berkey Filter, you can rest assured that your water is clean and safe for consumption. In fact, Black Berkey purification elements are far more powerful compared to competitors' water filters. We tested the filters with more than 10,000 times the concentration of harmful pathogens per liter of water than is required by industry-standard test protocols. This concentration of pathogens is so high that the water exiting the filters should be expected to contain a concentration of 100,000 or more pathogens per liter (99.99% reduction — the requirement in order to be classified for pathogenic removal). Incredibly, Black Berkey water filter elements removed 100% of the pathogens. After using the Black Berkey Filters, absolutely no pathogens were found in the effluent or were able to be detected. This set a new standard, allowing us to classify all systems containing the Black Berkey Filters as purifiers.
The revolutionary Black Berkey Filters or purifier elements are so powerful that they can remove food coloring from water without removing any of the beneficial minerals your body needs.
The Black Berkey Filters went through extensive testing at state, and EPA-accredited laboratories, and far exceed EPA and ANSI/NSF (Std. 53) protocol. The Black Berkey Filters have been tested by the University of Phoenix, Spectrum Labs, and the Department of Toxicology and Environmental Science at Louisiana University.
Because the versatile filters fit most other manufacturers' gravity water filtration systems, off-brand gravity filtration systems can be upgraded to a purifier with little effort simply by replacing original filter elements with Black Berkey Filters. This high-quality replacement filter vastly improves other brands' housings' ability to remove unwanted water contaminants.
Black Berkey Filters can be used on almost any water source, however, we do recommend always using the cleanest water source possible. Please note Black Berkey Filters are not designed to be used with salt or softened water. Using the filters with salt of softened water will drastically shorten their lifespan and void their warranty.
Each Black Berkey Filter has a life of 3,000 gallons: That's an incredible 6,000 gallons for a two-filter system (less than two cents per gallon of water).  This is possible because of the Black Berkey Filters' unique ability to be cleaned up to 100 times using a 3M Scotch-Brite pad. The Black Berkey Filter Replacements are the same as the filters that come with initial system purchase.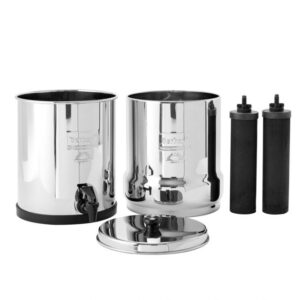 ADD ONS:
Black Berkey Filters – 2 pack                                         
PF-2 Fluoride and Arsenic Reduction Filters         

Stainless Steel Stand                                                     
Stainless Steel Spigot                                                           
13″ Sight Glass Spigot                                                     

Get No Interest if paid in full in 6 months on purchases of $99 or more when you use PayPal Credit.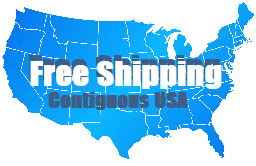 With all Berkey Stainless or Light Purification Systems