Transport, carry, and store your stainless steel filter system with the Berkey Tote.
Four sizes to fit all five of the stainless steel Berkey Water Filter Systems.
 Convenient Carry Options
Use either the shoulder strap or side carry handle.
Exterior Pockets
Upper Pocket: 6.5″ x 4″ x 2″
Lower Pocket: 7.5″ x 6.5″ x 2″
Designed to hold one set of new or properly stored Berkey Fluoride Filters. Each pouch is lined with a water-resistant lining and includes a removable padded divider, designed to keep filters secure.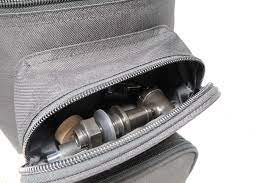 Removable Berkey Black Filter Zipper Pouch
Each Berkey Tote comes with a padded dual zipper
designed to hold two dry or properly stored
Berkey Black purification elements.
Take It With You
The Berkey Tote allows you to safely take your Berkey on the go with you.
Whether it be for storage or transportation, the Berkey Tote is designed
to hold dried and properly stored parts to your Berkey.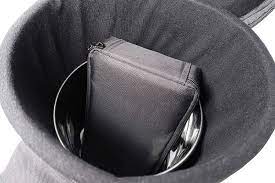 Using the Berkey Tote –
Carefully disassemble and dry each component of your Berkey System. Store all wet elements in a sealed plastic bag. Do not place wet products in your Berkey Tote or Berkey Element Case.
Place up to 2 dry or properly stored elements into the Berkey Element Case. Use the removable divider as needed. Ensure elements are properly secured and will not jostle in the case. Wrap elements in a towel or rag to reduce friction.
Place lower chamber of stainless steel system into the open tote.
Carefully set zipped Berkey Element Case (with elements) inside the lower chamber.
Fit the upper chamber mouth first onto the lower chamber, nesting the system together.
Zip up the system storage area of the Berkey Tote. • Store dry accessories in front compartments.
Care Instructions –
Wash the Berkey Tote as needed by hand, with a mild detergent and wet cloth. Allow your Berkey Tote to air dry, before zipping closed and storing. NOTE: Do not machine wash or tumble dry the Berkey Tote.